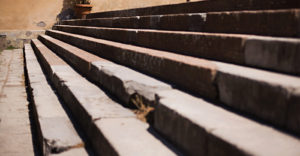 Premises liability injuries occur when individuals are injured while on another person's property or as a result of failure to maintain property in a safe manner.
A property owner is not absolved from responsibility or cannot shift the responsibility to another party since the injury occurred on the property. For example, if an elevator is maintained by a third party and the elevator causes harm to a person, the property owner is still held liable for the injuries sustained by that person. Just like other areas of law, even though there are exceptions,  property owners are generally held responsible for injuries sustained while on their property.
Premises liability injuries can occur as a result of stairway accidents, elevator accidents, code violations, unmarked hazards, falling merchandise, building collapses or toxic chemicals stored at the property.
The liability of the property owner for the plaintiff's injuries depends on the plaintiff's status at the property. The plaintiff is labeled as one of the following:
Invitee – The owner/occupier of the property invites the plaintiff to the property (i.e. a customer shopping at a store)
Licensee – The owner/occupier allows entry of the plaintiff onto the property (i.e. a guest)
Trespasser – A person entering the owner/occupier's property without consent
If you have been injured on another person's property,  please contact the experienced attorneys at Prober & Raphael Injury Lawyers at (818) 466-1000 for a free consultation. And remember, no attorneys fees are collected by our firm until your case is won!